You are previewing:

The Mammoth Book of Special Ops Romance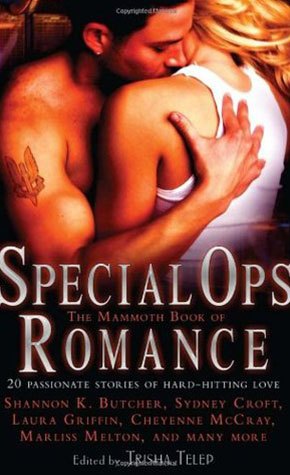 The Mammoth Book of Special Ops Romance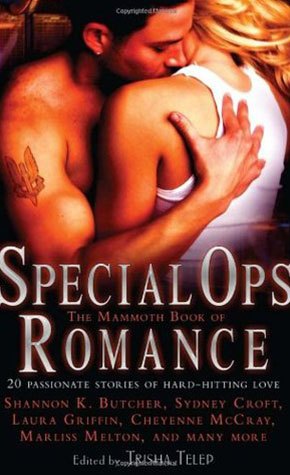 The Mammoth Book of Special Ops Romance
23 noveller av varierande kvalitet samlade i en mammutstor bok. En fantastisk introduktion till ett helt gäng, för mig, nya författare. Jag köpte boken för Shannon K Butchers novell, A Kept Man, och den höll som vanligt hög kvalitet. Fantastika har tidigare läst hennes serie The Sentinel Wars.
Texten på baksidan av boken ger en bra bild av vad den innehåller:
23 passionerade noveller om hårdkokt kärlek
Rörande kärleksnoveller med hjältarna från Navy SEALs, Delta Force, Air Force Pararescue, the Green Berets, the Army Rangers och andra specialförband. Män och kvinnor som lever och krigar i extremt farliga miljöer för att bevara friheten för oss andra. Försvarare och beskyddare av allt vi håller kärt.
Jag har aldrig läst något av Sidney Croft tidigare så hennes Code Word: Storm var en mycket trevlig överraskning. Ani (förkortning av Annika Svensson) har en förmåga att kanalisera elektricitet. Det gör henne till en mycket värdefull agent. Ofta är Ani nöjd med sin förmåga förutom att hon aldrig kan släppa garden för att till exempel krama någon.
Men det finns en man som av någon anledning inte berörs av hennes elektricitet. De har tidigare haft en vild och passionerad affär men den är över sedan länge. När de nu tvingas jobba ihop med ett fall som involverar demoner kommer alla känslor upp till ytan igen.
Creed har sedan födseln haft ett spöke som följeslagare, det bästa vapnet mot allt övernaturligt. Creed och Ani tillhör samma insatsstyrka och nu tvingas de slåss för sina liv.
Den andra historien med övernaturliga inslag är Michele Albert The Angels of Punishment. Den hade potential. En hjältinna med mycket spunk och söta vingar. En hjälpte som är en bestraffningens Ängel men har hamnat i ett nät av intriger och nu behöver hjälp av hjältinnan för att inte dö. Jag fick läsa om början för att överhuvudtaget komma in i historien och sen hade Michele Albert knökat in så mycket hon bara kunde med galna keruber (ni vet de där söta bebisänglarna), ärelystna änglar, himmel och helvete. Det blev tyvärr för mycket så skutan kantrade till slut.
Men många av de andra novellerna var riktigt, riktigt bra. Om man nu gillar Special Op:s förstås. Genom boken så har jag varit i London, Afghanistan, Pakistan, Indien, små och stora städer i USA och några ställen däremellan. The Game av Gennita Low var en riktig hit, tillika Jordan Summers Heat of the night och Caitlyn Nichols fantastiska Grey Man som börjar i ett nunnekloster i Öst-Timor.
Maria, juli 2010